Download the Dancing Unicorn SVG file for Glowforge Laser Cutter
I wanted to make a gift for a friend of mine who happens to love horses a lot. In my mind it was simple enough. I imagined the silhouette of a horse rearing up. I designed a wood rocking horse balance toy that bobs back and forth. However, I used up an entire sheet of wood from making poorly designed and unbalanced prototypes in order to get to this thing of beauty.
I don't know why, but this simple toy took forever for me to figure out. From an idea in my head to an object in hand was an entire day of moving the horse a bit this way, burning a copy on the laser cutter, and then seeing how it all balances.
When it didn't sit right, I tweaked the design a bit, made the weight at the bottom bigger, and burned another version on the Glowforge. Trying to guess the balance went on and on forever, much like this description.
I understand that you don't care about any of that. My suffering matters not now that the deed is done. We just love the happy dancing pony!
Do you know a person who has a lot of love for all things equine? Perhaps you too deeply desire to make a dancing unicorn toy on your laser cutter. I get it. I've been there.
So OK. Here it is. I made a 4″ small version, and then due to several requests from horse lovers, I made a big 8″ trophy size that works really well. The big one is heavier and rocks a long time. I love it!
Download the Dancing Unicorn SVG file for Glowforge Laser Cutter
You will need access to a laser cutter, 1/8″ thick plywood (or colorful acrylic could be fun), and white glue or super glue.
Laser Settings:
BLUE: Engrave (set to HD Graphic)
RED: First cut
BLACK: Last cut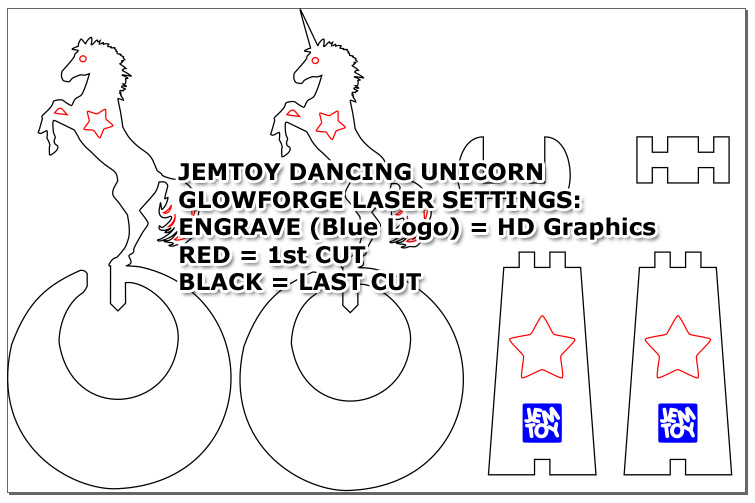 How to put the Dancing Unicorn together:
There are 2 balance toys included in each SVG design (a horse and a unicorn) but only 1 base is provided on the template. If you make both the horse and unicorn, be sure to make an extra base set (those 4 other things). Simply remember to copy/paste the extra 4 base pieces in the Glowforge user interface.
You only need to build the base. It has 4 parts. Glue is useful to hold it all together. Wood glue, white glue, or super glue will work.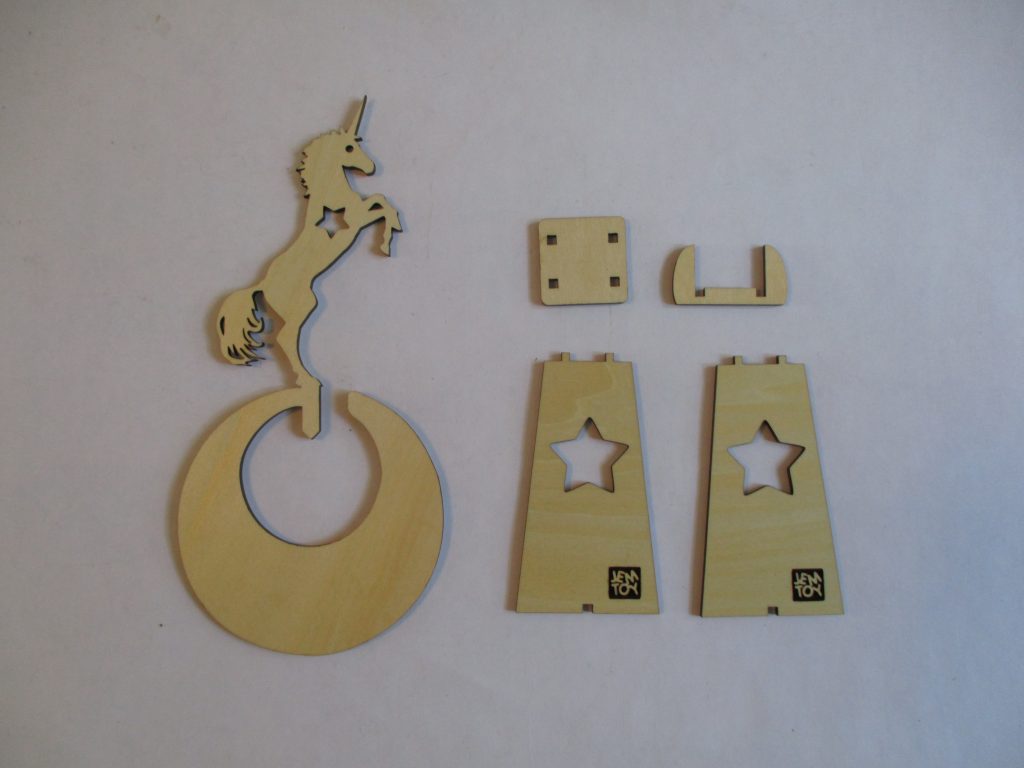 Above I provide a preview of the laser cut parts. You will see the 2 sides (with stars.) Above them are what I call the top bit (top left square thing) and the bottom bit (the C shaped thing).
Take a side (the part with a star), and insert the square hole on the bottom into one of the 2 grooves found in the bottom bit. Do it for both sides. Nest them together evenly so the base will stand flat.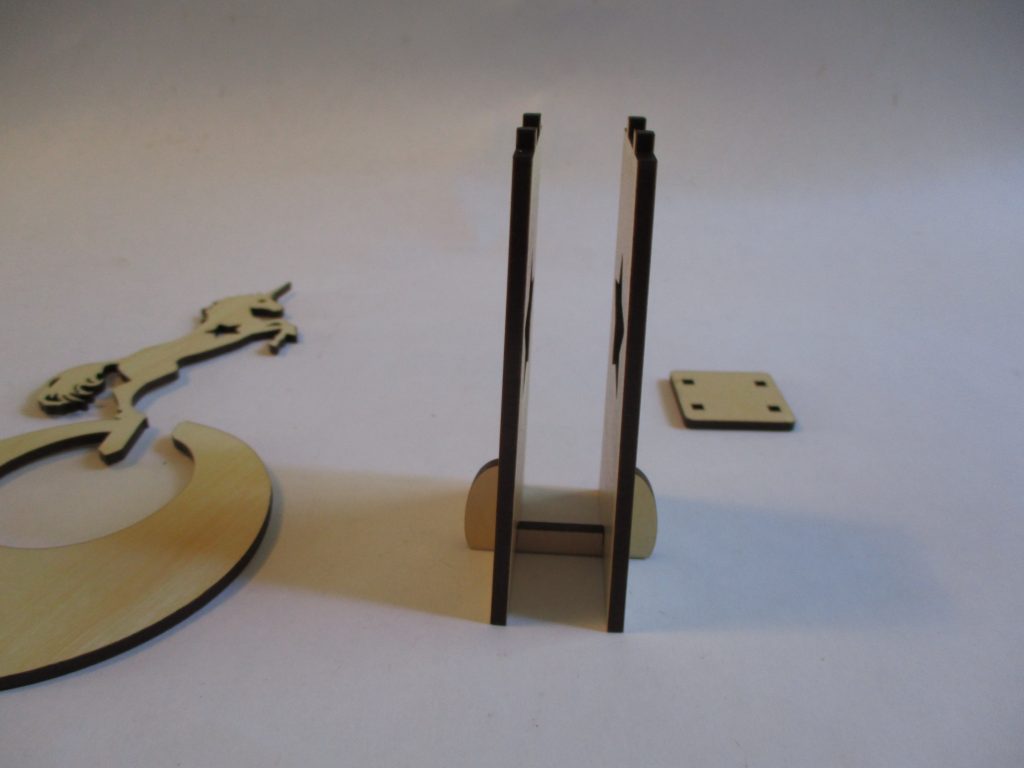 Push the top bit down onto the four tabs on top.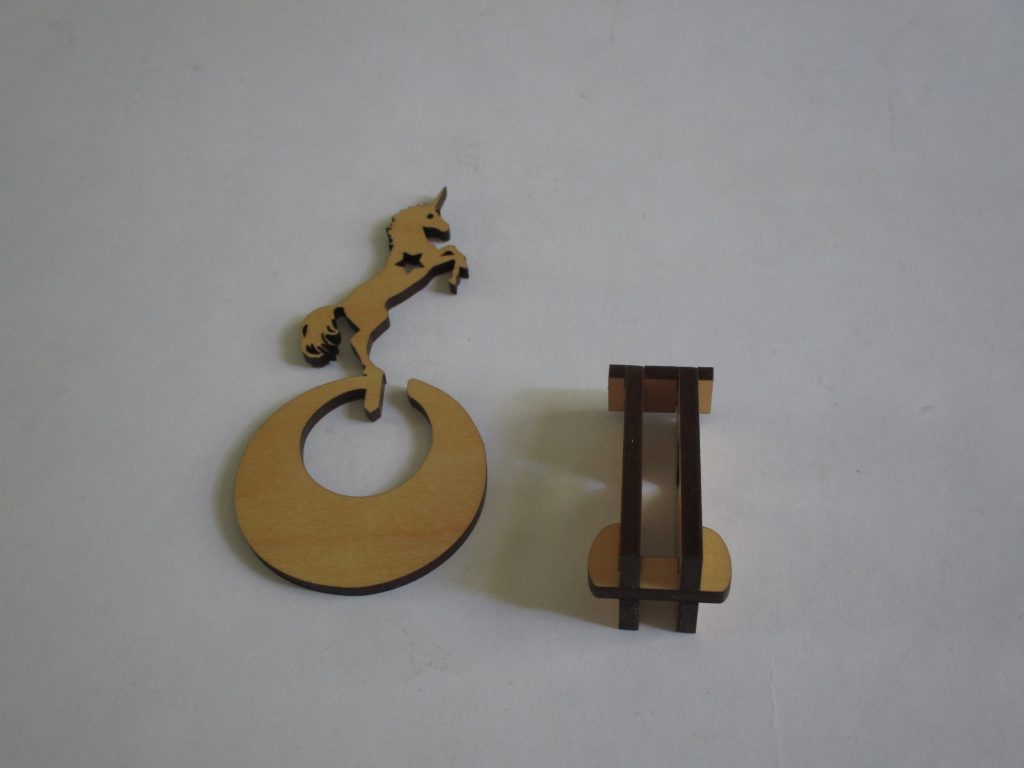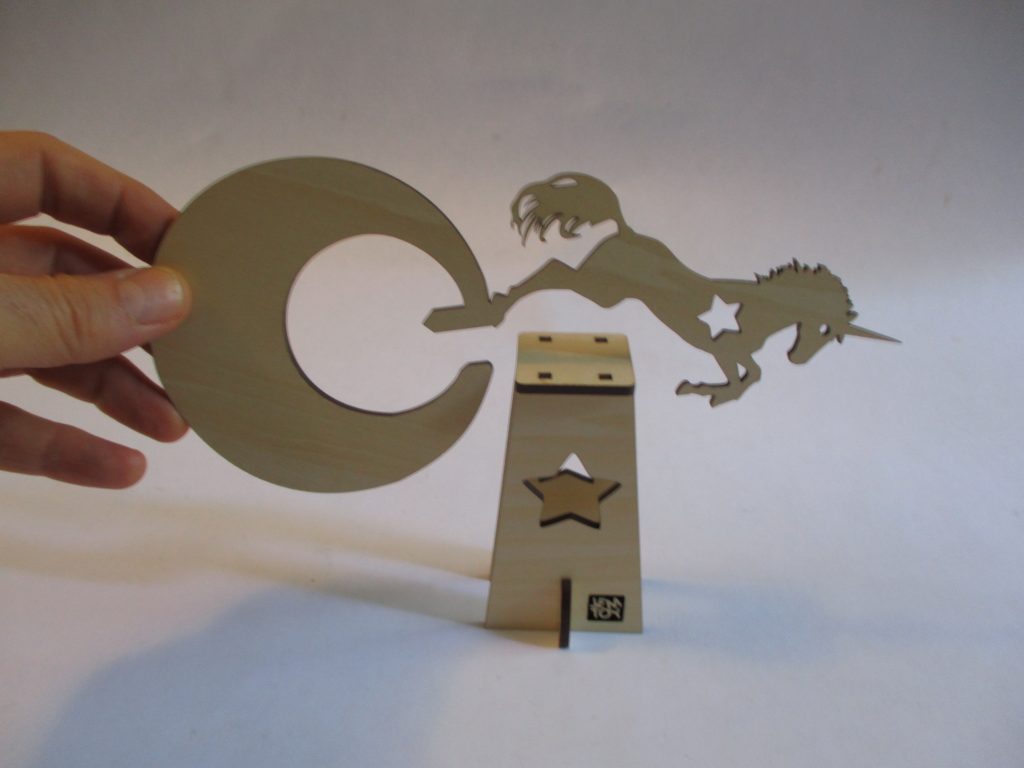 Now you need to get the base inside the circular weight and under the horse. You will notice under the horse's standing hoof there is a point with a slot opening into the circular weight. Slide the hoof and point over the flat top of the base until the horse balances in place on top. I know that explanation is very confusing, so please view the video above to see how easily it's done.
Download the Dancing Unicorn SVG file for Glowforge Laser Cutter