Learn Inkscape for Glowforge
This 10-lesson course that you can finish in a single afternoon will teach you how to design scalable vector graphics (SVG files) on Inkscape for use with your Glowforge Laser Cutter. In no time strange new items once only in your imagination will be in your two hands. 
Learn how to make
Glowforge Laser Cutter Projects: 12 Toys
Download SVG For Glowforge Projects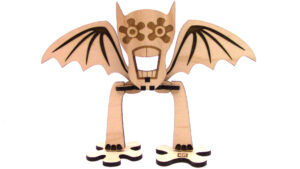 FREE SVG! The JEMTOY mascot (and shop nemesis) Gomper can be laser cut from 1/8 inch thick plywood or acrylic.
Read More »