My buddy is a crazed Unimog enthusiast and has been restoring one for a few years now. It's an obsession. The first Unimog released in 1948 as a farm tractor so that post WWII Germany could bring in crops. Over time the Unimog became famous for its ability to get into places no other vehicle could. To date the Unimog holds the world record for highest altitude for any motorized vehicle. A pair of Unimogs were driven up Ojos del Salado, the world's tallest active volcano located in the Atacama Desert in Chile to set up communication towers. The record setting altitude achieved was 21,962 feet above sea level! GO UNIMOG GO!
When looking over photos of old Unimog tractors, I noticed that the early 1948 designs were rather flat on all sides. I thought, I could make a Unimog toy using my laser cutter. So I did. I call it the Minimog.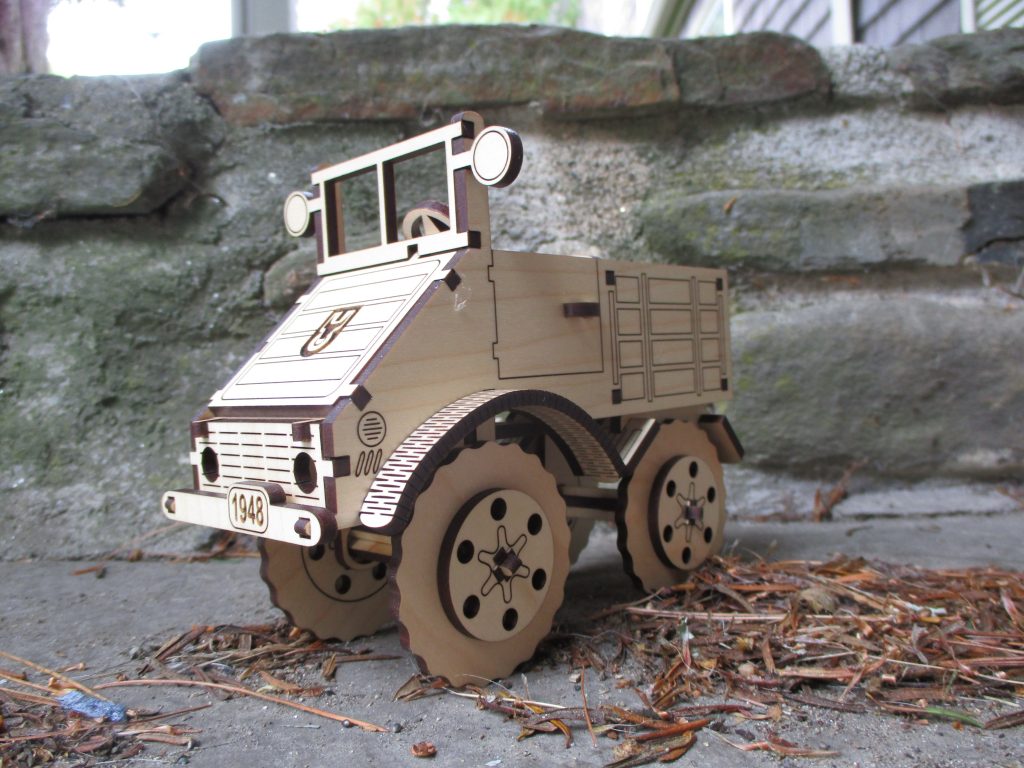 Download Unimog SVG for Glowforge Laser Cutter
You can make a Minimog toy using my SVG design. All you need is access to a laser cutter that reads SVG files, and a sheet of 1/8″ inch thick plywood. The Minimog is 6″ long, 3″ wide, and 4″ 3/4″ tall. You will need white glue, wood glue, or super glue to hold it all together.
Download Unimog SVG for Glowforge Laser Cutter
The laser cutting tasks are separated by color on the SVG:
DARK BLUE: (HD) ENGRAVE
TURQUOISE: (HIGH QUALITY) SCORE
PINK: CUT
BLACK: CUT
Video instructions for building the Minimog:
Download Unimog SVG for Glowforge Laser Cutter
This is a really fun design to customize. If you want to learn how to customize and design SVG files for laser cutting, I have a small video course on how to design for Glowforge using the free vector program Inkscape.
If you are interested in purchasing a Glowforge Laser Cutter, please use my referral link. I get free wood from their store, and you save $300-$500!
Check out my other SVG files for Glowforge Laser Cutter.