Download the SVG file at my Etsy shop.
I have been painstakingly recreating ancient Egyptian jewelry designs by hand into scalable vector graphics for laser cutting and jewelry making. Each design has two small holes found on each side of the top for connecting jump rings, a necklace, or whatever.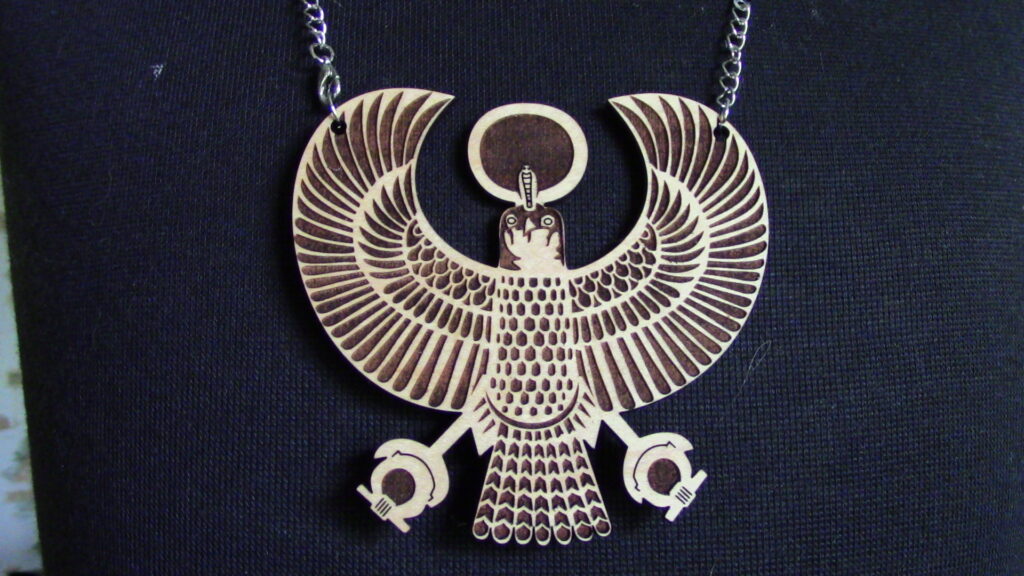 I started out with Horus as a falcon with spread wings motif. Then, if that was not enough, I have a wonderful Nekhbet, the vulture of upper Egypt that I have recreated in SVG digital format. Each of these deities are holding Shen Symbols giving the wearer eternal protection, which could come in handy, depending on who you are.
Download the SVG file at my Etsy shop.
These timeless artifacts are laser etched and intended to be cut from 1/8 inch thick plywood or hardwood, but no one is gonna stop you if you make them from 1/4 inch thick wood for that heavy solid feel. Use jump rings, cord, beads and other jewelry supply to make them into fine necklaces. Wear them as is, or rub turquoise or red acrylic paint into the laser etched recesses, then wipe the edges clean with a damp paper towel for a colorful inlay look. It's up to you. This would be a wonderful handmade gift for the Pharaoh or Goddess on your list. You know who you are.
Download the SVG file at my Etsy shop.
Once you open the SVG in the Glowforge App, you can scale each pendant to any size you prefer.
Glowforge laser cutter settings:
BLUE = Engrave HD Graphic
GREEN = Score HD (only Horus has green)
BLACK = 1ST CUT
RED = LAST CUT