This teeny tiny two story doll house is fun on its own, or a great addition to any HO scale train set. The fun is that you laser cut your own, making any custom modifications you desire, and build a whole city if you want.
The tiny doll house when complete is 2.75″ tall, the base is about 2″ x 2″, and the two rooms inside are just under an inch square.
Feel free to open the SVG using the free program Inkscape to modify the design into different style buildings. If your laser cutter requires a different format from SVG, open using Inkscape, and Save As whatever file type you require. Make, modify, and sell your laser cut creations, but please do not share or sell the SVG file. Thank you, Jay E Moores from JEMTOY!
Download the SVG files at the JEMTOY Etsy Shop
LASER CUTTER SETTINGS FOR GLOWFORGE
VIOLET (roof tiles) – Score HD
RED = 1st CUT
BLACK = Last CUT
Here are step by step photo instructions on how to build the Tiny Doll House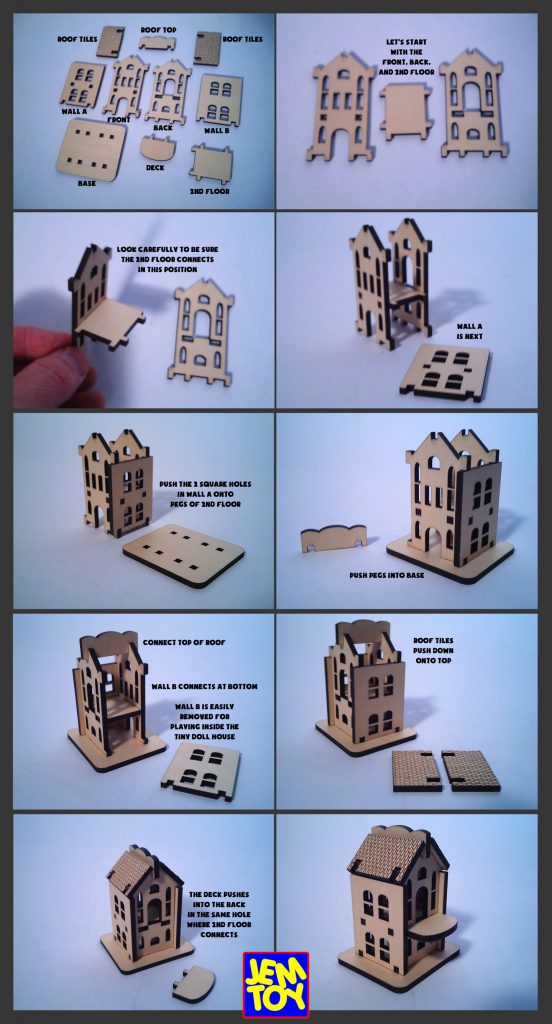 And if all that wasn't enough, I include 2 more SVG files as a BONUS! Make a whole village!