Download SVG file for Rockin' Kaiju Battle – Glowforge Laser Cutter Project
Completed project is made from 1/8 inch thick plywood and stands about 8.5 inches tall by 6 inches wide. Just tip the monsters, release, and they rock back and forth. There is a large space on each side that you can customize with a birthday greeting, photo, or other image or message. This design can be cut on any laser cutter that can read SVG files.
Glowforge Settings for Rockin' Kaiju Battle by JEMTOY:
BLUE = Engrave HD Graphic
PINK = Score HQ
BLACK = 1st Cut
RED = Last Cut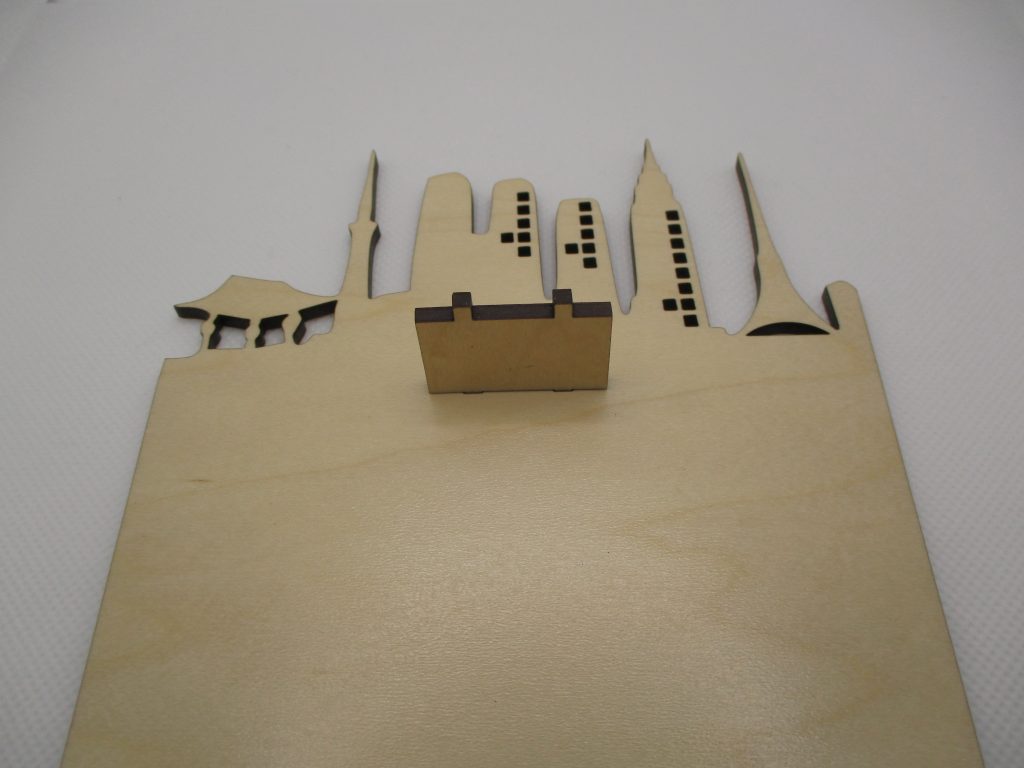 The stand has 5 pieces. White glue, wood glue, or super glue is optional. Start with the back side with a city profile. The small rectangular Balance Block inserts into the two peg holes found in the center.
Each monster is mounted to a round weight with a pointy bit that balances it. Stack each monster so the pointy bit will rest on top of the Balance Block (see photos above).
Connect second side of city to the Balance Block.
Insert the 2 "C" Clamps into the peg holes along the bottom of the city stand, and it's done. NOTE: I have added 2 "C" Clamps to the final design to make the base more stable than my first prototype that had only one as seen in some of the photos above. Paint, decorate, or leave it awesome.
KONG BONUS! I have included an extra city side that has KONG on top of a tall building doing his thing. You can make this project with or without Kong, but you don't need to print all 3 sides. The project only needs 2 sides, so be sure to print the 2 sides you choose for your project, not all 3.
You have to position the rocking kaiju monsters so they do not crash and drag on each other or the sides. I position them both to the middle, and then separate them just a bit so I get smooth rockin' action.
Download SVG file for Rockin' Kaiju Battle – Glowforge Laser Cutter Project
If you would like to learn how to customize SVG files take my course: Learn Inkscape For Glowforge
Check out my other JEMTOY SVG files for laser cutting.
Feel free to sell your physical creations, but please do not share or resell the digital SVG files you download. Thanks so much – J.E.Moores