Here is a favorite all the kids love. A rubber band gun. Everyone immediately recognizes the clothespin spring and it's fun to shoot rubber bands at stacked paper cups or other targets.
I offer my SVG vector designs for laser cutting on a Glowforge or other laser cutter. If you want a simple project that is tons of fun, this is it. All you need is access to a Glowforge laser cutter, some 1/8″ thick Proof Grade Medium MDF or Plywood, a clothespin, and a few rubber bands as ammo.
Carefully remove the clothespin spring. Don't bend it out of shape, and don't get your finger pinched when removing it. Slide the spring out of the clothespin, and set it aside for now.
There are 6 pieces with 5 clips to hold it all together. The front has 3 parts, and the back has 3 parts. They stack like a sandwich. The middle pieces are the parts without stars.
Stack the three front parts, line them up, then insert the clips in place into the 3 clip slots. I found it easiest to start inside the handle. The clips are very tight. You must squeeze and line everything up for the clips to push down and lock it all together. You'll feel it when it goes in place.
Do the same thing for the handle. Clip the 2 slots. Now you only need to add the spring.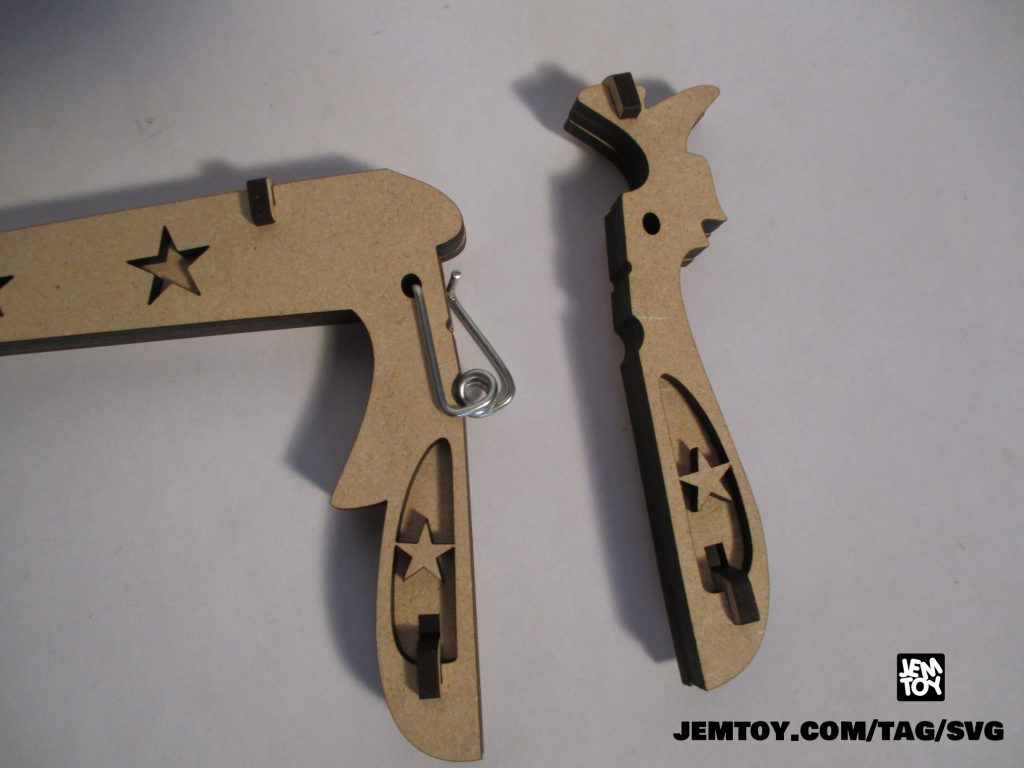 Slide the open end of the spring down into the hole on the front piece as in photo above. Now pull the spring outward just enough to slip the other end into the hole in the handle.
How to shoot: The nose of the rubber band gun has a hook. Snag a rubber band onto this hook, and pull the rubber band back. Squeeze the handle to open the top. Close the top so it just captures the rubber band in place. When you squeeze it open, the rubber band will shoot.
This toy is so much fun it requires parental supervision. Please teach your kids not to shoot at people or pets. Have fun! Create a mini shooting gallery with stacks of paper cups or other home made targets.