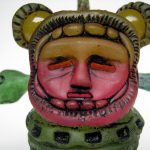 The kind folk over at OpportunityLOL are giving away a one of a kind RAINBOW SLITHGARN that I made, just for them to give away to you. If you want this handmade resin toy, simply visit their site, follow the contest directions, and win yourself my latest toy creation. The only way it could get better is if Slithgarn tasted like gummy bears. He doesn't.
UPDATE: This contest has closed, and Slithgarn has been won. I'm not sure who won because OppLOL conducted the contest. If YOU won this Slithgarn I beg of ye to take photos of this toy and email them to me at: jay @ jemtoy.com OR if you are extra cool, submit the photos directly to by tumblr blog at: http://jemoores.com/submit
THANKS! There was a huge turn out for this toy. Thank you to everyone that played along. Jay ~ Sign up for my secret email list thing to be notified of future contests and win free toys!